Escaped lynx made 'giant leap' over electrified fence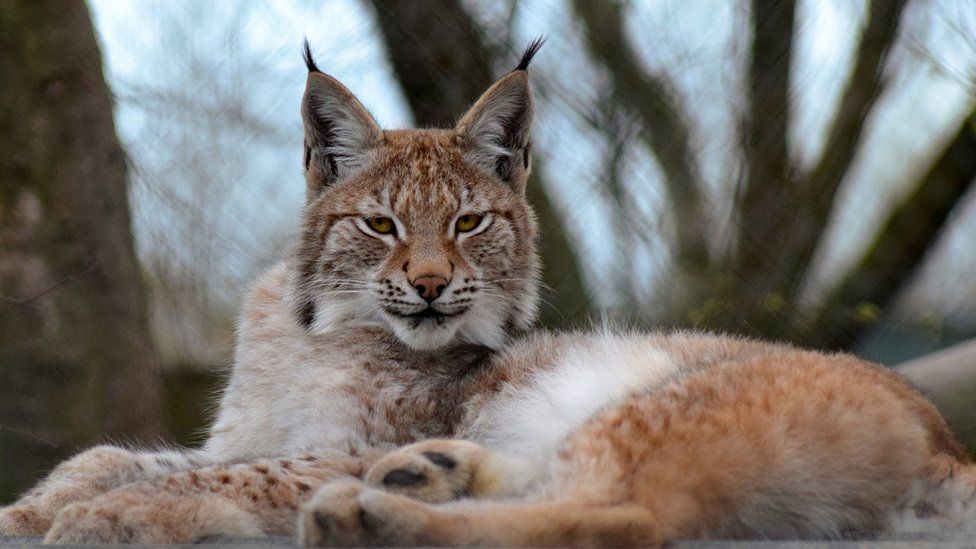 An escaped lynx is believed to have made a "giant leap" over an electrified fence to get out of the zoo and is now thought to be hiding in nearby bushes.
The Eurasian lynx, about twice the size of a domestic cat, escaped from Borth Wild Animal Kingdom, near Aberystwyth, some time during the past week.
The zoo has been closed while members of staff try to find it.
Dozens of bait traps are being set up and keepers have tranquilizer darts to hand as a last resort.
One of the zoo's owners, Dean Tweedy, said Lilleth the lynx was sighted by torchlight at about 21:00 GMT on Monday, on the same hillside where she was spotted on Sunday night.
He said the animal could also be heard calling in the early hours, but a number of bait and camera traps have failed to capture her.
Mr Tweedy bought the £625,000 zoo with his wife Tracy a year ago.
Mrs Tweedy said it remained a "mystery" how Lilleth escaped, but believes she climbed a tree and leapt to a fence.
She said: "The lynx enclosure is old and very badly designed. We are in the process of building a much larger, modern enclosure on the side of the hill.
"There are a few blind spots in their current enclosure which cannot be investigated without going right into the enclosure.
"Lilleth fed as usual last Tuesday but Wednesday was fighting with one of the adult lynx and didn't come out for her food that evening."
She said three keepers in protective gear conducted a full inspection of the enclosure on Sunday after the lynx failed to reappear and it was discovered Lilleth was missing.
"Experts have examined the enclosure and it is believed she climbed some slender tree branches and made a giant leap to the perimeter fence, possibly chasing a bird," Mrs Tweedy said.
"The fence is electrified so she would have got a shock. The trees closest to the perimeter have now been cut down so once Lilleth is recaptured we do not have a re-occurrence."
Ceredigion council licensing officers closed the park on Monday "for public safety".
Dyfed-Powys Police said the lynx could become aggressive if it was cornered and urged the public to be vigilant.