Blackmailer Linda Thomas's family to repay victim to reduce sentence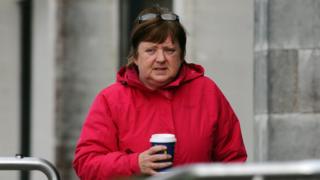 A blackmailer's family has agreed to repay her victim within 56 days to avoid her receiving a longer sentence.
Linda Thomas, 62, from Briscwm Cottages, Cardigan, forced the 85-year-old man to pay £10,000 and asked for a second amount after falsely accusing him of sexual assault and rape.
Police were called in after he told suspicious bank staff what was happening.
Thomas faces an extra six months to her 18-month term if the money is not paid.
Swansea Crown Court heard how her victim had become a recluse, fearing he would be branded a sexual predator in his community.
Thomas's defence lawyer, Dean Pulling, said her family would raise the money.
Judge Geraint Walters said at her sentencing hearing that there was a suspicion that she had been told that the police were on their way and that she hid the original £10,000.
Thomas, a cleaner, denied blackmail but was convicted after a trial. She refused to say what she did with the money.
The court was told she made the blackmail threat while doing laundry and other domestic chores for the man.