Ceredigion Herald newspaper ends print run after two years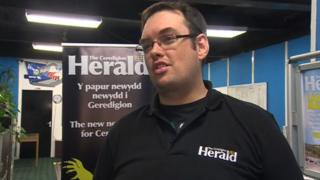 A local newspaper is to stop printing and instead publish only online less than two years after it launched.
The Ceredigion Herald announced Friday's edition - the 90th - would be its last.
The company said the other Herald newspapers - Llanelli, Pembrokeshire and Carmarthenshire - would still be published and no jobs would be cut.
Editor of the papers Tom Sinclair said the Ceredigion paper was a "weak link", selling 3,000 copies a week.
The Pembrokeshire paper launched in July 2013, followed in 2015 by Carmarthenshire and Llanelli versions. The Ceredigion Herald became the group's fourth in April 2016.
Mr Sinclair said: "The other papers aren't affected at all. The Ceredigion paper is the weak link. We found it hard to crack the area.
"There are no redundancies or anyone losing their jobs. We think digital is the future."
Mr Sinclair has been convicted twice for breaking the law while at the helm of the Herald newspapers.
In October 2016, he was fined £500 for naming a youth in a court case, then in May he was ordered to pay £3,650 in fines and compensation for publishing an article with information likely to identify a sex offence victim.
Part of his defence was because so few people saw the Ceredigion Herald it was unlikely that anyone who knew the victim or the guilty man would have read it.