Welsh government backs big investment in Powys schools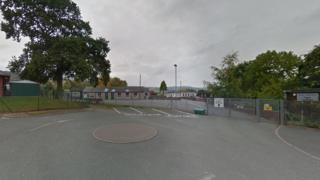 Plans to invest nearly £114m in schools in Powys have been approved in principle by the Welsh government.
The proposal by Powys county council could see "major improvements" to primary, secondary and special school services from 2019-2026.
There will be significant investment in facilities for vulnerable pupils at special schools Ysgol Cedewain in Newtown and Ysgol Brynllywarch, Kerry.
Funding will also go to Newtown's primary schools and a new Welsh school.
Ysgol Cedewain will receive around £40m of the total investment under the Welsh government's 21st century programme to improve its "appalling" buildings.
The school has 110 pupils between the age of two and 19 who have a range of additional learning needs.
The £113.9m investment has been approved by the Welsh government, subject to the approval of individual business cases for parts of the project.
Cabinet Member for Schools, Councillor Myfanwy Alexander said: "This is an opportunity to provide a far better infrastructure in which our most vulnerable youngsters are learning.
"In partnership with Welsh government and the health service, together with our communities, we are looking to deliver a new vision for Newtown and we are confident that these ambitious plans will come into fruition, having a considerable positive impact on the economy of Powys and the well-being of our citizens."
The programme also includes funding to improve primary school buildings in Brecon and support the development of Welsh-medium education in mid Powys.