Letters plea for cancer patient's Christmas hospital stay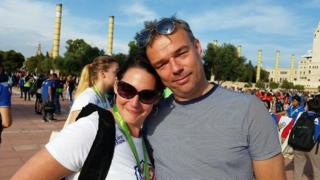 The wife of a man who will spend Christmas in an isolated hospital ward after having cancer treatment has urged people to send him letters of support.
Phil Bradley, 48, from Aberystwyth, Ceredigion, will undergo chemotherapy for bone marrow cancer, which will leave him with a weak immune system.
It means he cannot spend the festive period with his children and will also miss wife Karen's 40th birthday.
"There have been lots of tears shed by us both," Mrs Bradley said.
Mrs Bradley, 39, said: "The chemo they give is so strong it literally leaves you with no immunity and so hence the isolation.
"It's been the biggest blow of our year for him to face Christmas, New Year as well as my 40th birthday in hospital.
"There have been lots of tears shed by us both at the thought of him stuck in isolation, the children without their dad and me on my own over the festive period - let alone the fear of what's ahead."
To keep Mr Bradley's spirits up, Mrs Bradley has appealed for strangers to send him "letters of laughter" to read in hospital.
"Not letters of well wishes and get well soon, but letters of happiness and stories," she said.
"Letters about what made you smile today, funny things your children did or said, naughtiness of the dog.
"I want to read these letters to him and, on the days I can't be with him, I know he will have something to smile about and take him away from the place he's in."
Mr Bradley, who has two children aged 13 and 15, was diagnosed in May after suffering back and shoulder pains for two years. Five weeks later, the couple got married.
Letters can be sent to Paul Bradley on Ward 11 at Singleton Hospital in Swansea.