Couple's house used for mountain rescue on Pen y Fan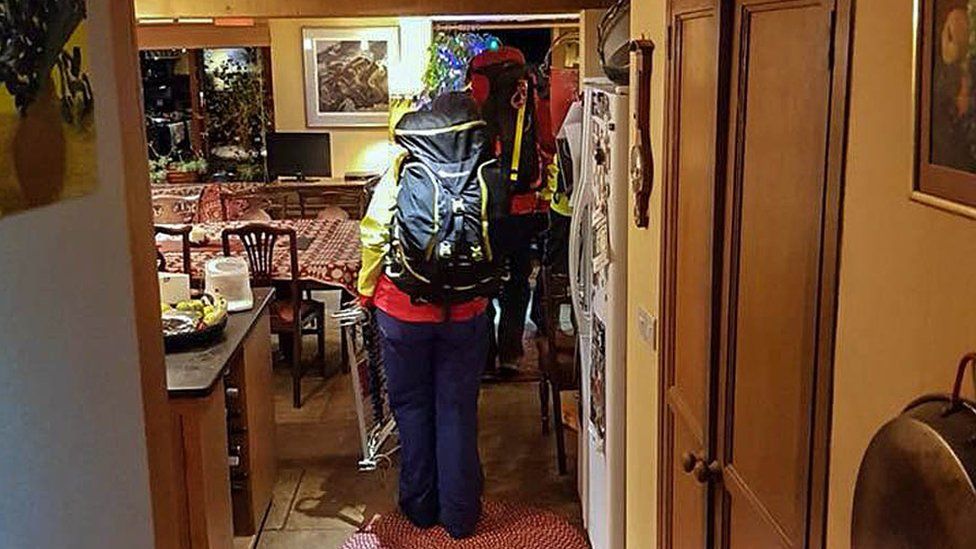 A couple in the Brecon Beacons had their cottage taken over by 27 mountaineers using it as a shortcut to rescue two trapped walkers.
The Brecon Mountain Rescue Team based themselves at the home of Sue and Kim Brook, 1,000 ft (305m) up Pen y Fan while they conducted their mission.
The rescued walkers, described as cold and exhausted, were eventually taken to hospital in Cardiff via air ambulance.
A mountain rescue spokesman said the couple had gone "above and beyond".
They were decorating their Christmas tree when they received a call from the mountain rescue team.
And they agreed that the quickest way to reach the trapped walkers was across their land - and straight through their house.
The two men became trapped on the mountain on Thursday night after having to abort their usual route, getting stuck on a longer and less familiar path.
Mrs Brook, 70, said: "We had a call late on in the evening from the rescue team to say that two men were in difficulties while walking.
"They needed very detailed instructions to help guide them to the men but, luckily, we both enjoy walking and we know the valley very well so we could help."
A mountain rescue spokesman said the couple "do a lot to support" Brecon Mountain Rescue Team.
"But they went above and beyond insisting that the easier assess across their land was, in fact, through their house," he said.
"So they allowed, and enthusiastically welcomed, a very muddy stretcher party to disturb their Christmas tree decorating and traipse through their home.
"We are always so grateful for the help and knowledge of local landowners - last night's support was particularly appreciated."