Ceredigion village 'abandoned' by lack of superfast broadband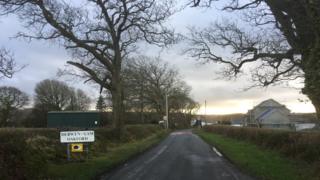 Rural communities in Ceredigion have been abandoned by BT after it failed to finish installing superfast broadband in some areas, an AM has said.
Fibre has been left hanging from telegraph poles in Oakford, according to villagers.
Some have said they were told they would benefit from the Superfast Cymru project which ended in December.
Elin Jones AM said BT had "walked away" but the company said it had been clear it "would not reach every premises".
BT was contracted by the Welsh Government in 2013 to connect 690,000 premises to superfast broadband by the end of 2017.
But speaking to Newyddion 9, Ms Jones said: "BT has brought the fibre infrastructure into the middle of the village and yet it hasn't made the final links into properties. BT has left the job unfinished.
"Now that the funding from the public purse has come to an end BT has walked away. BT should not be doing that. They have promised in writing that people... would be linked into the superfast infrastructure."
David Thompson, from Oakford Community Group, said the village felt "badly let down".
A spokesman for Openreach, which deals with infrastructure on behalf of BT, said: "Since the start of the Superfast Cymru we have always been clear that the programme would not reach every premises, and some areas that were in the original plan have unfortunately dropped out because of the time and the complexity involved in reaching them.
"We understand the frustration of Derwen Gam [Oakford] residents who currently cannot access fibre broadband but the Welsh Government is already planning the next stage of extending the reach of fast, reliable broadband even further across Wales."
A Welsh Government spokesman said: "We know that Superfast Cymru has already proved itself to be a success with the latest tested and verified figures for September showing that over 665,000 premises have access as a result, including 24,927 in Ceredigion."
The next stage of connecting properties in Wales to superfast broadband, known as the Next Generation Access Scheme, is expected to cost a further £80m.