Powys' yellow stickers detail drivers' medical conditions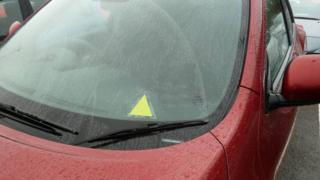 Motorists in Powys are being urged to join a scheme that could help emergency services find vital medical information about a driver in an accident.
Placing a yellow triangle in the car window tells teams they have a condition or allergy and that their details are in the glove box.
The "Your Details" card then features illness and medication information as well as next of kin contacts.
The council said it would help 999 staff get relevant details quicker.
Geoff Wilks, the council's road safety project officer, said: "As most mobile phones nowadays are lockable and only accessible by a password, the mobile phone I.C.E (in case of emergency) system can no longer be relied upon to give the emergency services access to details.
"This scheme will go that one step further by not only providing next of kin details but details of the card holder's personal information."
Motorists can request a Yellow Triangle pack via the council's website.