'Inadvertent manoeuvre' in Cwmbach fatal plane crash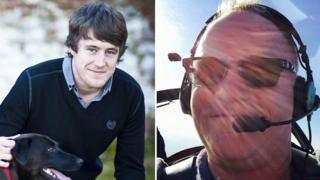 A light aircraft which crashed and killed two people in Powys was unable to recover from an "inadvertent manoeuvre", an investigation has found.
Nick Jefferies and Scott Penlington died at the scene at Cwmbach, Builth Wells, in September 2016.
Witnesses noted the plane's wing had folded back on itself before it corkscrewed and hit the ground.
The Air Accidents Investigation Branch report said the impact "was not survivable".
The 22-page document looked at why the wing had collapsed.
It found there was a structural failure near the root of the wing, caused by upward bending which went beyond its design limits.
No pre-existing defects or faults were found.
The report said the failure most likely happened because of an "attempted recovery from an inadvertent manoeuvre inducing a structural overload".
While it could not establish the cause of the unintended manoeuvre, the report said possible reasons included an event within the aircraft taking the pilot by surprise, a medical issue or incapacitation of either the pilot or passenger, or avoiding a potential collision with an object or bird.