Remains of Welshpool's medieval castle excavated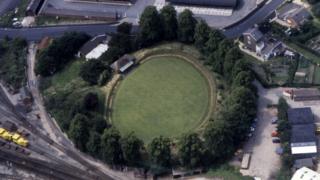 Archaeologists have resumed a dig at Welshpool's medieval castle.
Clwyd-Powys Archaeological Trust (CPAT) held an open day at Victoria Bowling Club on Saturday from 10:00 GMT to 16:00 to present their findings to the public.
Previous excavations found that parts of the building were well preserved.
"This year we are exploring the ditch around the castle mound," said CPAT community archaeologist Alex Sperr.
Volunteers have been helping the trust to excavate the site.
"Although the castle is on a prominent site not many people know about it, and it is great that we can help raise the profile of this important piece of Welsh heritage," said Mr Sperr.