Plane in Welshpool 'crashed into hedge during take-off'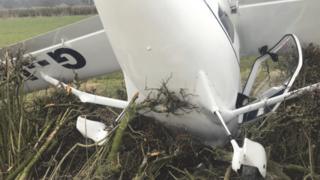 A plane veered across the runway and ended up in a hedge after a brake is thought to have jammed as the pilot tried to take off, investigators said.
The incident, in Welshpool in February, came a day after another light aircraft crashed at a private airfield in Powys as the pilot came into land.
Both pilots escaped unharmed from the aircraft, the Air Accidents Investigation Branch said.
The plane in Welshpool sustained damage to the fuselage, propeller and engine.
The day before, a plane bounced back into the air upon landing at a private airfield in Powys after the pilot approached the runway too high and too fast.
As the main wheels touched down, the aircraft bounced back into the air by a few feet, the investigators' report said.
It caused the nose of the plane, landing near Painscastle, to drop leading to the propeller hitting the ground and the engine to cut out.
The pilot however, was able to get out of the plane without any difficulty.