Hay Festival opens with events streamed into classrooms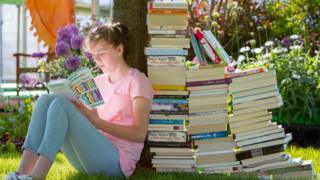 More than 12,000 school children will attend the opening two days of this year's Hay Festival.
The celebration of literature and the arts returns to Hay-on-Wye in Powys for its 31st year.
As well as those attending the festival, events with authors will be streamed into classrooms across the UK.
Primary school children are at the festival on Thursday, with appearances by authors including Cressida Cowell, Julian Clary and Andy Stanton.
Secondary school pupils attending on Friday will hear speakers including BBC Radio 1 presenter Gemma Cairney and poet and author Laure Dockrill.
Festival director Peter Florence said school parties were "the most brilliant audience" and children went to the festival with "open minds".
"They come to everything fresh and they've got this golden age of brilliant writers for children. There has never been a better time to be a reader if you are a kid," he said.
The festival's 10-day programme includes appearances by writers Margaret Attwood and Philip Pullman, singer Laura Mvula and Chelsea Clinton, the daughter of former US president Bill Clinton who called the Hay Festival "the Woodstock of the mind" when he visited in 2001.
Attwood's book, The Handmaid's Tale, features in a list celebrating 100 essential books by women writers from the past 100 years compiled by readers and organised by the festival and website The Pool.
Her book - set in a dystopian future when women are forced into reproductive slavery to bear the children of the elite - was made into a critically-acclaimed Channel 4 TV series.
Mr Florence said: "She has been writing about what happens when the world loses a sense of what nature might look like for years. And she looks visionary if you read her back catalogue."
Other authors in the top 100 list include Maya Angelou, Anne Frank, JK Rowling, Harper Lee and Gillian Clarke.
The festival runs until 3 June.