Safety concerns over 'eroded' Aberystwyth paddling pool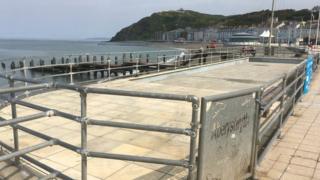 "Decades of erosion" mean a seafront paddling pool closed for two years cannot be reopened.
The pool on Aberystwyth's promenade was closed in 2016 after bad weather damaged the surface.
Ceredigion council said the stability had been affected and it was working with a partner on "options to provide a paddling pool in the town" in future.
New business forum Advancing Aberystwyth said: "We are confident something will be done with the site."
Llanbadarn Fawr community councillor Ben Davies said: "It's such a shame, because there aren't many attractions on the prom here in Aberystwyth and this is the first thing that needs to be addressed. But money is everything these days."
Advancing Aberystwyth spokesman Mathew Newbold said the organisation "hoped to do something with the site" and discussions with the council were ongoing.