Twin foals named after the Duke and Duchess of Sussex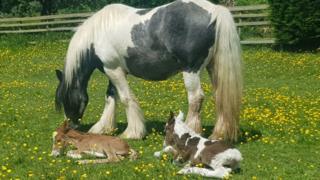 A rare set of twin foals born the day before the royal wedding have been named Harry and Meghan.
Born in mid-Wales, the horses beat the odds as twin foals are said to only occur in one in every 10,000 births and one usually dies shortly after.
The owner of the non-identical twins said she did not know the mother, named Blue, was expecting twins until the Friday before they were born.
She said the births were "incredible."
The female foal named after the Duchess of Sussex has blue eyes and white eyelashes, which is also said to be a rare trait.
Martin Dewar, owner of the American Bashkir Curly Stallion that fathered the foals, said the births were "extraordinary."
He said: : "I've been in the trade all my life and I have never come across a set of twins that have both survived."