Two arrests after power tools thrown at police in chase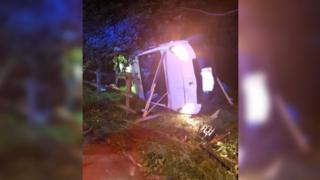 Power tools were thrown at police officers during a high-speed chase.
Dyfed-Powys Police said officers were called to Aberystwyth, Ceredigion, at 00:15 BST on Tuesday after reports of power tools being taken from a van.
Two suspects were identified, but fled from police and the force said a "high-speed pursuit" ensued.
During the chase, a white Peugeot van crashed in Newtown, Powys, and a man, 18, from Coventry and a 17-year-old from Tottenham were arrested.
The pair were arrested on suspicion of criminal damage, dangerous driving, failing to stop for police officers and theft.
Dyfed-Powys Police said the tools were thrown out of the window of the van and into the path of police vehicles in pursuit.
Three men were taken to hospital with minor injuries after the crash, but no members of the public or police officers were hurt.