Ceredigion schoolboy, 16, in skirt uniform protest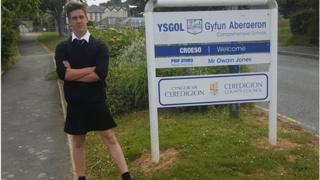 A sixth-form student who wore a skirt to class after being sent home for wearing shorts in hot weather says he is "fighting for equality".
Aberaeron student Louis Fice said having to wear trousers in the heat was "very uncomfortable".
The 16-year-old said when he turned up in a skirt, he was removed from class and told he could not wear it because he was a boy.
The head teacher said boys are allowed to wear shorts if he gives permission.
"I'm not just fighting for equality for boys, I'm fighting for equality across the board," said Louis, an army cadet from Mydroilyn.
He said that, after being told off for turning up to school in shorts last Tuesday, he told teachers it was affecting his learning and persisted on Wednesday.
"The assistant head gave me two choices: to go and pick up some old, unwashed uniform from lost property, or go home," Louis said, adding that he went home.
The student said he wore trousers on Thursday because it was cooler but a skirt on Friday due to the heat.
Louis said he was then removed from class and "lectured" for 45 minutes.
'Certain category'
"When I asked why I couldn't wear a skirt to school, they said it was because I am a boy and can't wear a skirt," he said.
"Personally I identify as a male but I have a few trans friends. How dare they bracket me into a certain category because I look like a boy."
Louis said he will continue to wear a skirt until the school uniform policy is changed.
Head teacher Owain Jones said pupils could seek to change uniform policy through the school council and that a final decision would only be made following consultation.
"The school has always allowed pupils to wear shorts during very hot weather following announcements by the head teacher," added Mr Jones.