Cross-border patients give input in hospitals rethink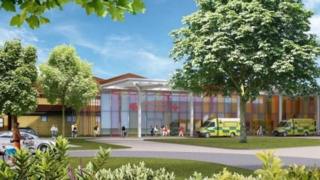 More than a hundred people attended a consultation event in Newtown, Powys, to discuss the transformation of health services in Shropshire.
Seventy thousand people who live in mid Wales use hospital services in Shropshire.
Around 10% of the patients treated in Shrewsbury and Telford every year cross the border from Wales.
Experts there say they face challenges to recruit enough healthcare staff and ensure round-the-clock care.
The consultation is being led by the NHS Shrewsbury Clinical Commissioning Group and the Telford and Wrekin Clinical Commissioning Group (CCG).
The programme is focused on two hospitals: the Royal Shrewsbury Hospital and the Princess Royal Hospital in Telford.
Change is needed according to the CCGs in order to ensure that high quality, safe services are provided for all patients for the long term.
The consultation document says that it is "becoming more difficult to make sure that we have enough doctors, nurses and other healthcare staff to provide many of the same services, 24-hours a day, seven days a week at both our hospitals.
"A local and national shortage of doctors, nurses and other healthcare professionals has led to difficulties in recruiting."
The CCGs are proposing changes so that one hospital provides emergency care services (including women and children's inpatient services) and the other hospital provides planned care services.
Both hospitals would have an Urgent Care Centre that is open around the clock.
The public are being consulted about the location of the emergency care site and the planned care site.
The CCGs have stated a preference to have the emergency care at Royal Shrewsbury Hospital, saying that would mean fewer people would have to travel further for emergency care.
The event in Newtown is the only public exhibition that will be held in the county where people can meet doctors, nurses and other healthcare staff and ask questions.