Cwmbach fatal plane crash: Witness recalls aircraft 'spinning'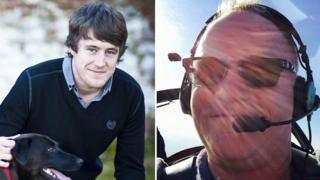 A light aircraft that crashed killing two people was "spinning" and "rolling in all directions" moments before it hit the ground, an inquest heard.
Nick Jefferies and Scott Penlington, died at the scene at Cwmbach, Builth Wells, Powys, in September 2016.
The men, both from Holmes Chapel, Cheshire, had been flying to Swansea to meet Mr Jeffries' son, the inquest in Welshpool was told.
Witness Rebecca Fleck said the aircraft crashed on land at her family farm.
She said she was walking with friends when they first spotted the plane, which appeared to be flying normally.
Ms Fleck said she recalled thinking "that's a steep climb," before the plane started to "come down".
One of the wings "bent up" and it was "spinning, rolling in all directions" before she heard "a thud", she said.
Her friend Alison Lloyd said she remembered one of the group saying that the aircraft "could do with changing gear," but she "didn't really think anything of it".
Shortly after, she said she saw the plane "coming straight down... it just seemed to be spinning".
She added that the "wings weren't in the place they should be... there was no sound, it was silent," before she heard an "almighty thud".
"I didn't see any flames, didn't see any smoke... it was as if it was just falling out of the sky," she said.
The inquest heard that pilot Mr Jefferies, who owned the Eurostar EV-97 plane, had flown about 350 hours since qualifying in 2014.
His passenger, Mr Penlington, was a friend of Mr Jefferies' son.
A post-mortem examination later revealed both men died after suffering multiple injuries.
A report by the Air Accidents Investigation Branch in February found the aircraft had been unable to recover from an "inadvertent manoeuvre".