Campaign to halt explorer HM Stanley statue in Denbigh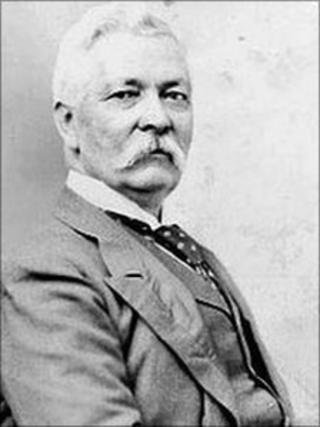 A campaign is under way to stop a planned statue of explorer HM Stanley in his home town Denbigh.
Opponents believe Stanley was guilty of crimes against humanity, contributing to colonisation and slavery.
Bangor university lecturer Selwyn Williams said an exhibition detailing his life would be more appropriate than a statue depicting him as a hero.
But Denbighshire Council said local residents wanted a commemoration to Stanley.
A £31,000 bronze sculpture, funded by Denbighshire County Council, Denbigh and St Asaph town councils, and others, has been commissioned.
However, Mr Williams said he and others were trying to collect the signatures of "prominent people" with the aim of persuading the local authority to change their plans.
Asked if he thought HM Stanley was guilty of crimes against humanity, he said: "Absolutely."
He added: "He established a way of exploring Africa where natives were shot at random.
"One of his exploratory party sent the head of an African back to his Piccadilly taxidermist."
Mr Williams, a semi-retired economics lecturer, said: "Stanley was very much part of the whole thing of persuading the Congolese leaders to be part of the colonisation led by King Leopold of Belgium.
"In no way did Stanley distance himself from any of that.
"I don't think this man should be presented locally as a hero because what he was part of is one of the worst examples of exploratory surveying.
"He was described at the time by a colleague as surveying by warfare.
"One of Stanley's contemporaries, Richard Burton, described him as 'shooting negroes like they were monkeys'."
Mr Williams said he was not opposed to acknowledging Stanley's connection with Denbigh, but wanted to do it in a way that would not be "unacceptable historically".
In a statement, Denbigh council said: "Whilst we appreciate people will have different points of view, a questionnaire, which was widely circulated throughout the area as part of our consultation process, generated an extremely positive response from people in both St Asaph and Denbigh.
"The results confirmed that the local residents wanted to see a commemoration to HM Stanley in both Denbigh and St Asaph."