Asbestos-riddled Rhyl hospital could be revamped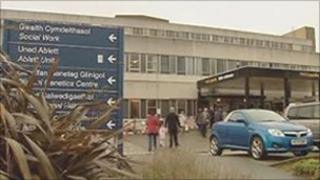 A major Welsh hospital due to be demolished because of asbestos problems could be refurbished instead.
Glan Clwyd Hospital at Bodelwyddan, near Rhyl, in Denbighshire, is riddled with asbestos and does not currently meet fire safety standards.
In 2008 Health Minister Edwina Hart announced the 40-year-old building would be torn down and rebuilt on the same site at a cost of up to £300m.
Now health officials have proposed a multi-million pound revamp instead.
A large H-block at the centre of the hospital was built in the 1970s and does not have ceiling fire-breakers.
The potential U-turn comes after investigations at Prince Charles Hospital in Merthyr Tydfil, which was built at the same time and suffers from identical structural problems, revealed refurbishment is possible.
Betsi Cadwaladr University Health Board, which runs Ysbyty Glan Clwyd, intends to develop and submit an outline case for the redevelopment of the hospital to the Welsh Assembly Government by November.
But board members stress the revamp is just one possible option for the future of the site.
Neil Bradshaw, executive director of planning at the board, said: "The health board is committed to the development of Glan Clwyd Hospital and a strategic case will be submitted to the assembly in November.
"One of the options is to look at refurbishment, in light of the work that has been carried out at Prince Charles Hospital in Merthyr Tydfil.
"The safety of staff, patients and public remains our top priority, and monthly air monitoring below ceiling level is in place to ensure that safety is maintained."
In February the board was issued with two improvement notices by the Health and Safety Executive.
The first notice ordered the removal of asbestos from ceiling spaces in Wards 11 and 12. Work to remove the dangerous material is now under way and should be finished by October.
The second notice related to the whole of the hospital building and ordered the board to carry out a visual inspection of all ceiling voids.
Structural problems
The survey was carried out by a specialist firm and revealed that the asbestos was continuing to deteriorate in some places, falling onto ceiling tiles.
Mr Bradshaw told the board: "The survey revealed that the natural deterioration of the asbestos sprayed coating has progressed since the original survey findings.
"Debris was found directly under the unencapsulated beams and along the outer shell of the building.
The firm has taken samples from the ventilation duct and access to the ceiling voids has now been prohibited unless a pre-assessment has been carried out by a qualified consultant.
The building has been described as having structural problems which do not meet today's requirements, but is said not to be unsafe to staff, patients or the public.
A senior health official has said previously that there are only risks if the asbestos is disturbed.