Helicopter's near miss with RAF jet over Ruthin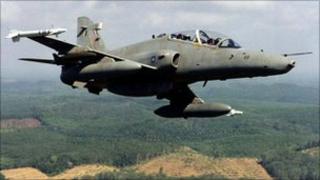 An RAF jet came within 200m (656ft) of colliding with a helicopter while on a training exercise in Denbighshire.
An aircraft proximity said a Hawk TMK2 pilot was leading two aircraft on a low-level training sortie over Ruthin on 15 December.
The UK Airprox Board found the civilian helicopter had been "unwise" to fly in the busy, low-flying area at a height used by military jets.
The Ministry of Defence said its pilot took "appropriate" evasive action.
The report says the RAF aircraft were flying on a low-level training sortie in excellent weather.
It says a "red, black and white twin-engine civilian helicopter was seen in the left 11 o'clock slightly low and about 1-200m away.
"The sighting was too late to take effective avoiding action to reduce the collision risk other than a slight climb and wing waggle."
The report concluded the cause of the incident was a "presumed non-sighting by the helicopter pilot and a late sighting by the Hawk crews."
It also said board members "unanimously agreed that the helicopter pilot had been unwise to choose to fly in a busy and promulgated low flying area," at an altitude regularly used by military air crews on training exercises.
Board members were undecided on the degree of risk, but half of the members thought there had been "an actual risk of collision".
The incident was classed as a "B" risk, meaning the "safety of the aircraft was compromised".
A Ministry of Defence spokesman said: "RAF pilots are constantly reminded of the need to maintain an effective lookout.
"In this case, the Hawk pilot took appropriate evasive action which effectively removed the risk of collision."