Civil funerals due to start in Wrexham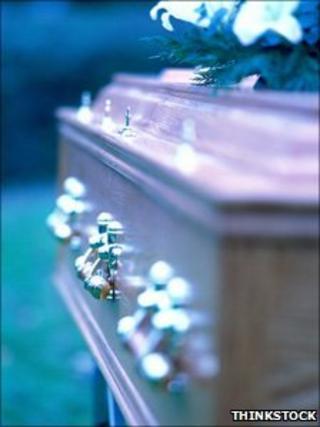 Civil funerals which "fill a gap in the market" between religious and humanist ceremonies have been backed by Wrexham council.
Permission was previously granted in principle, but the council was asked to agree final points, including an initial £110 cost.
Most services will be held at Wrexham's crematorium, but can be held anywhere other than a religious building.
A member of council staff has been trained to conduct the funerals.
The council has held talks with local funeral directors, clergy and crematorium staff, and it is estimated about six clients a month will use their service.
A report, which was discussed on Tuesday, said: "Based on the discussions to date, it is proposed to offer a personalised non-religious ceremony, suitable for use in both cremations and burials.
"These funerals will fill a gap in the market currently on offer in Wrexham between religious ceremonies and humanist ceremonies which have no mention of religion at all."
The ceremonies would include readings and music to "reflect the expressed wishes of the bereaved family".
The report also said the "service would also interface with other interested parties, including Maelor Hospital, nursing home, GP surgeries and the Wrexham Crematorium".
Stephen Caldecott, managing director of Caldecott and Sons funeral directors in Wrexham, said he thought the civil funerals would catch on.
"There is a demand for this kind of service," he said.
"A lot of people still want a traditional funeral, but we are getting more and more requests from people who do not want a minister but do want a hymn.
"It's a good thing to be able to offer them."