Residents try to stop bridge work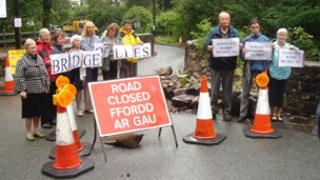 Protesters have failed to stop demolition work on a Flintshire bridge.
About 10 local residents, supported by Delyn AM Sandy Mewies, wanted to stop bulldozers taking down the centuries-old bridge at Pantymwyn, which is being replaced by a wider one.
Pantymwyn community councillor Ken Skates said workmen arrived before the protesters gathered, and started work.
Flintshire Council said it had consulted with local people and had made some modifications to the design.
Cllr Skates said he believed work started to pre-empt the planned protest.
"By the time we had arrived at eight thirty, they were there. They had already knocked down part of the bridge.
"Local people were very disappointed and angry."
Cllr Skates said some local people were unhappy that they had not been consulted properly about plans to replace the bridge.
'Air their views'
Opponents to the new scheme want to keep the historic bridge and fear a new wider bridge could bring more traffic to the area.
However, the council said it held a public consultation in 2005 which resulted in modifications to the new bridge's design.
It said more recent modifications had also been made following representations from the public.
However, it added: "This additional period of public representation is now ended.
"The work to replace this bridge has begun and the road closure will be between 26 July and 16 October 2010."
Delyn AM Sandy Mewies, who joined the protest, said: "I am disappointed that the council went ahead and started the work today without giving residents a chance to air their views.
"The council says that everyone who attended a public meeting some time ago and left their contact details have been contacted but some of the protesters say this is not the case."