Ffion Roberts 'contact' with police before death - IPCC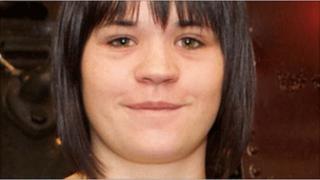 A young care worker had contact with North Wales Police before she was killed, the police watchdog has confirmed.
The Independent Police Complaints Commission (IPCC) said it has carried out an investigation into the contact Ffion Wyn Roberts, 22, had before her alleged murder in Gwynedd.
The force referred the contact to them after her death in Porthmadog in April.
The IPCC said the results would be made public sometime in the next few weeks.
The type of contact or cause for contact has not been made public.
The force had referred itself for the independent investigation.
Factory worker Iestyn Davies, 53, has been charged with killing the 22-year-old care worker.
Miss Roberts's body was discovered in a ditch in Porthmadog, in Gwynedd, on 10 April.
A post-mortem examination showed she was strangled and there was evidence of drowning.
North Wales Police's Assistant Chief Constable Gareth Pritchard said: "North Wales Police voluntarily referred the matter to the IPCC. An independent investigation was carried out and the IPCC will publish their findings in due course.
"To say anything further at this time could clearly prejudice any trial and therefore we will not do so until after any trial."