Collections to repatriate Polish mother and son bodies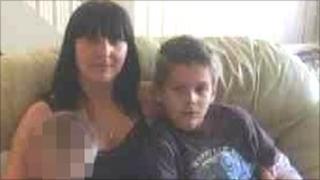 A community is raising money so the bodies of a Polish woman and her son who died after an attack can be returned to their homeland for burial.
Monika Wasko, 29, died in an stabbing at her home in Cae Hir, Flint on 11 July. Her son Patryk, 11, died in hospital three days later.
Collections for an appeal fund have been held at Patryk's school, a catholic church and a supermarket.
Krystian Krystof Rozek, 27, is accused of their murders.
Mr Rozek is also charged with the attempted murder of Mrs Wasko's husband, Rafael.
He is due to appear in court again September.
Members of the St Mary's Roman Catholic church in Flint have joined local members of the Polish community to launch the appeal.
More than £200 was donated last weekend after collection buckets were placed at checkouts in a supermarket in Flint.
The collection was organised by the parent teacher association (PTA) at St Mary's RC Primary School in Flint where Patryk, who died at Alder Hey children's hospital in Liverpool, was a pupil.
PTA member Patricia Mulreay, who works at the store, said: "This tragedy has really affected the whole town and people have really rallied round to help the family.
"We've had a very good response. People can also donate money via the church, the Polski Sklep shop in Flint and the TSB bank."