Jobs boost with expansion at Wrexham solar panel plant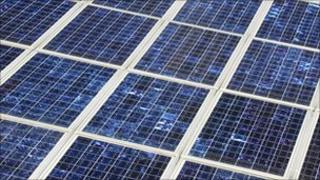 Electronics giant Sharp says a "substantial" number of jobs will be created following a £30m expansion of its Wrexham factory.
The firm plans to double production of solar cell modules at Llay, where 750 work, and it is hoped a new production line will be in place by December.
Andrew Lee, general manager of Sharp Solar, said a training academy would also be established.
The number of new jobs is being put at "several hundred" by politicians.
Some staff are expected to be switched from production of microwave ovens to work on the new production lines.
Mr Lee said Wrexham had been "supportive" and the company wanted to invest there.
"This is very good news," he said.
"Wrexham has been fantastically supportive of us for many years and it's only right that further growth investment is made here."
He said 570 of the employees at Llay were already involved in the solar modules operation.
The target date for the introduction of the new lines is December with "full implementation" by February 2011.
Mr Lee added: "I can't give a figure on how many jobs this will mean because we are still doing the figures We're still trying to work it out."
A new training academy is expected to be opened in October, training between 25 and 50 solar panel installers per month.
Wrexham AM Lesley Griffiths said the announcement was a "great boost" for the area.
"It's a huge vote of confidence in the workforce that we have in Llay already.
"They have shown their ability to be able to move on. In the 90s they were making videos, they moved on to microwave ovens, then on to solar cell modules."
She said she had been working with the company, alongside Wrexham council, the assembly government and the town's MP Ian Lucas to secure the deal.
She said she understood that the number of new jobs coming to the plant will be "several hundred".
MP Ian Lucas added: "It is at the forefront of carbon-cutting technologies, provides high quality, skilled jobs, and produces a much in-demand product. The Labour government's decision to introduce a feed-in tariff earlier in the year has had a real impact.
'Growing demand'
"The decision to double capacity of solar cell production is a very welcome boost to the local economy - and it is also a vote of confidence from Sharp for Wrexham and its excellent workforce."
Deputy First Minster Ieuan Wyn Jones said: "We have been working closely with the company over a number of years and have developed a strong relationship with them.
"We have also provided the company with support for training and developing the skills of their workforce."
He added: "Sharp's state of the art, technically advanced facility in Wrexham exports products throughout continental Europe, where there is a growing demand for efficient solar technology.
"The need for continued advancement in green technology is crucial to stimulate economic growth and encourage innovation and enterprise."
Aled Roberts, leader of Wrexham council, said the announcement was "very exciting".
He added: "This is a major vote of confidence in Wrexham but more importantly, the workforce at Llay."