Some disruption in Flint as power cable work starts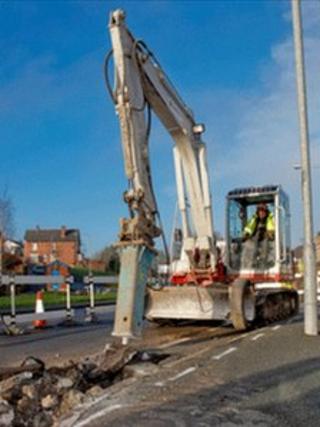 The latest phase of work to link the electricity networks of Wales and Ireland is under way in Flintshire.
It is hoped the £560m (600m euros) East West Interconnector will power 300,000 homes, and will take power company Eirgrid three years to complete.
Work is starting on laying cables in Aber Road, Flint, where a one-way system will operate for six weeks.
Eirgrid said it had agreed to minimise disruption by not laying cables in the town centre.
While the one-way system is in force, vehicles will not be able to turn into the road off Holywell Road (A548).
Diversions will also be in place, including for vehicles travelling to Aber Road Industrial Park.
Access to Aber Road will be maintained for residents and emergency vehicles.
Alan McHugh, EirGrid's East West Interconnector project manager, said: "While most of our underground cable will follow the route of the A548, we won't be taking it through Flint town centre to ensure businesses there aren't impacted by the work.
"An alternative route starting in Aber Road has been identified and I would like to assure people we will do all we can to ensure any disruption is kept to an absolute minimum."
The power cables will come ashore at Prestatyn, Denbighshire, and travel to a converter station at Shotton, Flintshire.
Mr McHugh added: "We're very pleased with how the work of laying the trunking is going. We currently have crews working in Pen y Ffordd, Mostyn and Greenfield and they are making good progress."