Denbighshire council agrees to transfer Corwen Pavilion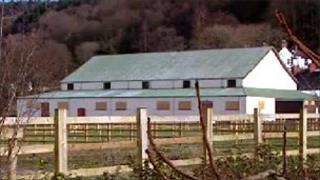 Land on which Corwen Pavilion stands has been agreed to be transferred to an organisation made up of local people and businesses.
Denbighshire council will sign over the land to the Corwen Pavilion Working Group provided the group becomes a charitable trust.
It also wants it to be used as a facility promoting Welsh culture.
The move would first have to be approved by planners. The pavilion was closed after asbestos was discovered.
Closer inspection revealed a string of other defects with the 99-year-old building.
As part of the latest proposal, the council would demolish the existing building, which is "a risk to the council and would be a risk to any new Board of Trustees".
Notices will be posted shortly advising local people that the council intends to start the process of seeking a "prior approval" for the development through the local planning authority.
It has previously been estimated that the building will cost between £2m and £3m to replace.