Funding crisis puts Wales in Bloom's future in doubt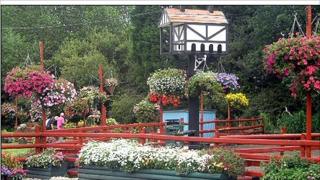 The organisers of the Wales in Bloom competition have warned that this year's contest will be the last, unless funding can be found.
Its secretary, Donna Roberts, said there was "nothing in the bank" and it was preparing for "panic stations".
She said annual funding from Visit Wales had been reduced from about £30,000 a few years ago, to nothing.
The Welsh Assembly Government said funding was provided to help Wales in Bloom become a "self-sustaining body".
The Wales in Bloom competition was set up to encourage towns, cities, villages and businesses brighten up their environment.
A message on its website says the Wales in Bloom Foundation is "committed to fostering civic pride, environmental responsibility and to encourage improvement to the quality of life through community involvement".
Ms Roberts said: "Until a few years ago, all of our funding came from Visit Wales, which used to be the [Wales] Tourist Board.
"They used to fund about £30,000 a year, but their priorities have changed.
"Then they gave us £5,000 a year and provided us with help to find some alternative funding.
"But as of this year they said there was no funding at all."
She added: "People have been writing to the assembly but we haven't found anything yet, and there's nothing in the bank.
"It's pretty desperate. There's nothing for this financial year."
There will be a ceremony in September, but after that Ms Roberts said it was "panic stations".
Mr Roberts said the competition needed about £20,000 a year to function, adding that if every local authority in Wales pledged £1,000, its future would be safe.
Supporters of the competition claim it can boost tourism and encourage councils and residents to take pride in their surroundings.
'Fall by wayside'
Anglesey-based gardener Medwyn Williams, who has won 11 gold medals at the Chelsea Flower Show, said: "I think it helps tourism, definitely. It has achieved a hell of a lot.
"It will be very sad if it can't continue because it's a way of keeping our environment in check and encourages people to go to see places.
"But if there's no money to be found it will fall by the wayside."
A Welsh Assembly Government spokesman said: "Wales in Bloom is a private, charitable initiative.
"In the past the Wales Tourist Board, and more recently Visit Wales, has provided a small amount of funding intended as a short-term measure to help the foundation develop and grow into a self-sustaining body.
"Visit Wales no longer funds projects that are not directly related to tourism and as a result, it is not possible to offer the levels of funding that were awarded previously.
"Visit Wales has a statutory duty to promote Wales as a visitor destination and to develop tourism as an industry and economic driver, and this duty must come first."