Ex-Wrexham MP and AM John Marek to fight seat as Tory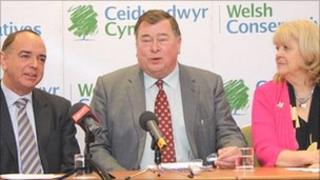 John Marek, Wrexham's former AM and MP, is to fight for his old seat in the Welsh assembly as a Conservative.
He was an independent AM for Wrexham after he was ousted from Labour in 2003, until he was defeated by Labour's Lesley Griffiths in 2007.
Dr Marek, 69, said he had been changed by age and experience.
He said, "I look forward to the assembly elections producing a new government and new ideas not just for south Wales but for north Wales too."
He added that though some may say he's moved from left to right politically" I was always centre left, but we all change.
"But the big change is in the Conservative Party. It is not the Conservative Party of Thatcher. The Conservative Party is left of Labour.
"And as I've got older, experience has changed me, I've shifted my position on some issues. There is no black and white, only shades of grey.
"I have always said what I believe in - that was probably why the Labour Party kicked me out. I fully support the new coalition."
When Dr Marek joined the Conservatives in March, the Tories said he would bring "strength and experience" to the party.
But Labour said at the time that it had been "watching his weird and winding political journey with increasing disinterest".