Murder accused claims fight over drugs 'led to death'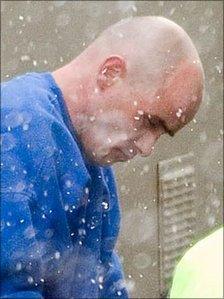 A man accused of beating his partner to death told a jury he was only trying to stop her fighting him over a methadone bottle when she died.
Brian Buckley, 41, denies murdering Leah Ingham, 25, at their home in Wrexham in February this year.
He admitted having both his arm and then his hand around her throat at one stage during the fight and realised she was dead when she went limp.
Mr Buckley denied intending to kill or cause the mother-of-two serious harm.
Mold Crown Court heard Mr Buckley had said Ms Ingham was a lovely woman and a great mother when she was off drugs, but had a different view of her when she was taking heroin.
He said things started to go wrong when she relapsed into drug-taking and started seeing someone else.
Mr Buckley said he could accept that, but did not want her to take the children into "drug dens".
On the day of her death on 8 February, Mr Buckley said, Ms Ingham had admitted relapsing into drug use.
"I didn't want to be believe it. We had the children, we had everything.
"We had built up so much but the drugs were starting to creep back in," he said.
Questioned by his barrister, Patrick Harrington QC, the defendant said police had been called to his house previously by his partner when they argued about drugs.
He denied striking her during the argument.
"I knew that she was seeing someone else and that she was on heroin.
"The heroin led to arguments. I said if you want to be with someone else you can go but you are not taking the kids into that world.
"If we did not have the children it would not be an issue," he said.
Ms Ingham had been at her mother's house that day, and once the children were put to bed on her return Mr Buckley said he found a large bottle of street methadone in her handbag, not the plastic bottles she was prescribed.
He claims he told her to phone the police so he could give them the drugs.
They also spoke about the Child Support Agency, which Ms Ingham said she had contacted and signed his name in a letter saying he would give her £50 a week.
The row turned into a fight over the methadone bottle, the court heard, and Mr Buckley said Ms Ingham scratched his face and punched and slapped him.
He said he punched her back to the face and shoulders, and asked her to stop fighting while he had his arm around her throat after she tried to hit him with a crystal clock.
When he got up from underneath her, he added: "She was quite still. I thought she was dead."
He admitted also hitting her with a television remote control and a child's umbrella.
Prosecuting, Simon Medland said he had not shown Ms Ingham a moment of remorse when she relapsed into heroin use.
He said Mr Buckley had asked her to stop fighting "with his fists" and while he had received relatively few injuries, Ms Ingham had been battered and died on the living room floor.
The court heard there was blood up to the ceiling because of the ferocity of the attack on Ms Ingham.
A psychiatrist called by the defence told the jury the defendant was suffering from a personality disorder and an adjustment disorder.
They will be asked to consider a verdict of manslaughter based on diminished responsibility. The trial continues.