Man guilty of murder, not manslaughter, jury told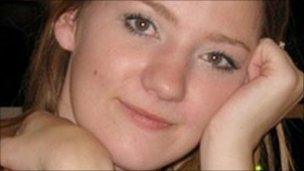 Closing speeches have been made by prosecution and defence in the trial of a man accused of beating his partner to death.
The prosecution said Brian Buckley, 41, should be convicted of murder, not manslaughter of Leah Ingham, 25, at their home in Wrexham in February.
He denies murder, and the defence said he was trying to stop his partner fighting him over a methadone bottle.
The jury is expected to retire to consider its verdict on Thursday.
Prosecutor Simon Medland told the jury it was not fair to brand Ms Ingham as a hopeless heroin addict, claiming Mr Buckley murdered her in a sustained and violent attack.
He said: "Again and again he punched her, one at least, on his own admission, with full force.
"He head-butted her at least twice."
Mr Buckley has claimed his partner had relapsed into drug-taking, had started seeing someone else and he feared for their two children coming into contact with drug dens.
During a fight over a methadone bottle, Mr Buckley said Ms Ingham scratched his face and punched and slapped him.
He said he punched her back to the face and shoulders, and asked her to stop fighting while he had his arm around her throat after she tried to hit him with a crystal clock.
When he got up from underneath her, he added: "She was quite still. I thought she was dead."
In his closing speech, Mr Buckley's barrister, Patrick Harrington QC, said it was not an attack by a man on a woman, but a "fight which led to tragedy".
Mr Harrington said his client had a personality disorder which could amount to an abnormality of mind in law.
He said he was not asking the jury to clear the defendant, but asked them to return a verdict of not guilty to murder but guilty of manslaughter.
He added: "You must be very careful not to be swept away by the emotional tide that follows from the circumstances of this case."