Firm wins appeal to clear Bersham tip in Wrexham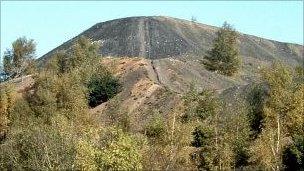 A company has won its appeal to remove an old coal tip which has become one of Wrexham's best known landmarks.
Bersham Glenside Limited hopes to start removing 6m tonnes of spoil from the Bersham Colliery tip within a few months, in a project which may take up to nine years.
Some local people have expressed disappointment the tip is to go although a museum could be established.
Cadw had previously highlighted its industrial heritage importance.
However, the Welsh Assembly Government granted permission, subject to conditions.
The mine closed in 1986, putting 300 miners out of work.
Despite council officers recommending the scheme for approval in 2007, Wrexham council voted against the removal of the tip after historic monuments agency Cadw asked that it should be preserved.
In a letter to the council Cadw said: "The tip is one of the few remaining coal tips from the coalfield, and almost certainly the most important from the perspective of its contribution to a surviving industrial complex."
The scheme was again thrown out by the council the following year.
'Significantly beneficial'
However, the Welsh Assembly Government has confirmed in a report that Bersham Glenside Ltd (BGL) has now won its appeal to start clearing the site.
BGL says it is keen to preserve historic elements such as the original head gear and listed buildings to help "promote" the area's strong coal mining history.
On its website, the company also states that "the provision of a high quality colliery museum is entirely feasible, sustainable and would provide a significantly beneficial addition to the educational, cultural and heritage facilities in this region".
BGL spokesman Mike Killett said: "We're delighted with the eventual outcome."
He said the company wanted to work closely with the North Wales Miners' Association to promote the museum.
Mr Killett added that "pre-start" dialogue had begun, but it is likely to be several months before work starts.
Some local residents in nearby Rhostyllen are unhappy at the decision.
One said: "I think it's one of the worst things that could happen, to have it taken down.
"It's a heritage to us in a way, of when it was the pits."
Another said: "I think they should leave it as it is, considering it's been there... since Rhostyllen has, basically."
Related Internet Links
The BBC is not responsible for the content of external sites.