Welsh worldwide asked to donate £1 to Wrexham tower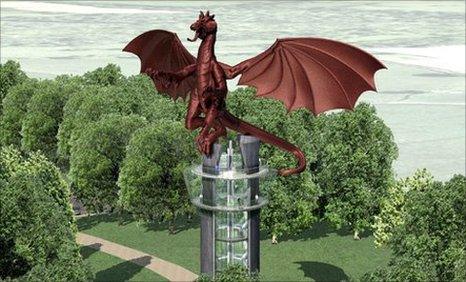 A worldwide fundraising campaign is due to start to help raise money for the proposed Waking the Dragon tower near Wrexham.
Plans for the landmark at Chirk Park have been submitted to Wrexham council.
The Frank Wingett Cancer Appeal, which is behind the £8m idea, estimates there are 16m people of Welsh extraction around the globe.
The charity has pledged that every donor's name will be recorded on site.
If planning permission is approved, and the money can be raised, the bronze dragon will be above a glass tower.
It would dominate the skyline from the A5 at Chirk.
The tower is the brainchild of Simon Wingett, whose father Frank, a local businessman, died of cancer in 1988.
He said the project was "wholly symbolic of Wales" and he hopes the project will start in autumn 2010.
Mr Wingett has claimed the tower, and accompanying visitor centre, could raise £1m a year and create 70 jobs.
Wrexham council is in the process of considering transferring land it owns to allow the dragon to be built.
Related Internet Links
The BBC is not responsible for the content of external sites.