Wrexham invited to join UK's biggest health study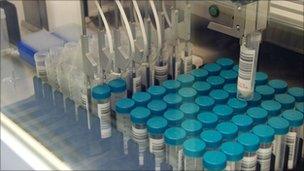 Wrexham residents are being asked to join a scheme which it is hoped could help develop treatments for illnesses like cancer and heart disease.
UK Biobank wants 40-69-year-olds to undergo tests which scientists hope will help explain why some people get serious illnesses and others do not.
The biggest study of its kind, it has enrolled 500,000 UK adults, and has already visited Cardiff and Swansea.
Volunteers give genetic samples which are stored for decades.
They are asked to provide information on their general health and lifestyles in a session lasting about two hours.
Participants also give permission for their health to be followed for the next 30 years.
As well as cancer and heart disease, it is hoped the study could help scientists understand why some people get illnesses like diabetes, depression, osteoporosis, dementia and strokes.
Funding for the project includes a £230,000 grant from the Welsh Assembly Government to build a mobile assessment unit.
The UK Biobank unit will be stationed in the Waterworld car park, Chester Street.
Wrexham council's strategic director, Philip Walton, said: "We are delighted to have the UK Biobank here in Wrexham.
"Its role in assisting scientific research into a wide range of diseases and illnesses, is of great benefit to us all and I am pleased that Wrexham residents will have the opportunity to contribute so positively to this work."
Dr Tim Sprosen, UK Biobank's chief scientist, said: "This is a magnificent project and I hope people in Wrexham will support it.
"Its power is in having so many generous people take part and allowing us to follow their health over many years.
"It is the most detailed study of its kind ever undertaken and will provide a treasure trove of health information in years to come."
Some residents are being invited to participate, while volunteers are also wanted.
Related Internet Links
The BBC is not responsible for the content of external sites.