Inquest into Ffion Roberts told of 'blunt head injury'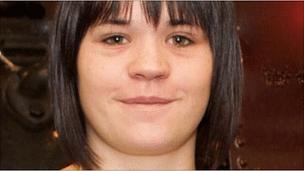 A resumed inquest into the death of a care worker has heard she was hit on the back of the head.
The body of Ffion Wyn Roberts, 22, was found in a drainage ditch near her home in Porthmadog, Gwynedd in April.
The cause of her death was recorded as drowning and strangulation.
But an inquest verdict will be not recorded until after a crown court trial. A man, 53, has been charged with her murder.
The inquest in Llangefni, on Angelsey, heard that Ms Roberts's injuries showed she had been dragged, and she had a high level of alcohol in her blood.
Coroner Dewi Pritchard Jones said two Home Office pathologists, Dr Richard Shepherd of Liverpool and Dr Brian Rodgers of Glan Clwyd Hospital, in Rhyl, had produced post-mortem examination reports which were "very, very similar".
Medical evidence indicated Ms Roberts had significant blunt trauma to the back of the head, indicating a blow or striking a hard object, with injuries to the face or to the head.
At a previous inquest hearing it was clear that Ms Roberts had been strangled but not clear whether she had drowned as well.
Mr Pritchard Jones said: "The two pathologists have come up with the conclusion that death was the result of both, namely that she was strangled and probably later or while she was still alive drowned as well".
A death certificate can now be issued to the family.
Iestyn Davies, 53, of no fixed abode, has been charged with Ms Roberts' murder.