Demolition work halted at Wrexham mines rescue station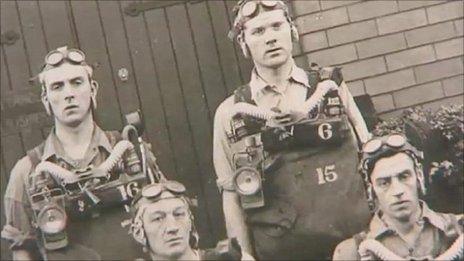 Heritage body Cadw says it has listed a former mines rescue station near Wrexham "with immediate effect" because it is under threat.
Demolition work had started on the 1913 building on Wednesday but was stopped by Wrexham council, saying a safety certificate was needed.
Cadw has now listed the rescue station for its "special historic interest".
Campaigners have been trying to preserve the rescue station and had called for it to be listed by Cadw.
The heritage body had previously recommended the building - opened to help find survivors of mining accidents - for listing, and a consultation was launched two weeks ago.
However, consultations in themselves do not prevent owners from demolishing a building.
Cadw has now gone a step further by listing the rescue station.
A Cadw spokesperson said: "The former mines rescue centre in Wrexham was recently recommended for listing by Cadw subject to a four-week consultation until 3 September.
"Today bulldozers have started removing parts of the rear of the building. The local authority has ordered a stop of this work but because of the immediate threat to this building, Cadw has decided to list it with immediate effect.
"On the evidence currently available to Cadw, the building has been listed for its special historic interest as a mines rescue building, purpose-built to serve the mines within the north Wales coalfields and important for retaining significant original form and layout, in particular the training gallery.
"It is a rare example in Wales and displays good architectural detailing and construction."
Campaigners say the rescue station is an important part of Wrexham's mining heritage, amid fears it could be turned into flats.
Councillor Phil Wynn said: "I had a telephone call from one of the local residents at about midday to say a digger had gone in and the gates had been locked afterwards.
"I rang building control and they said they had not received a Section 80 form off the land owner to commence demolition.
"Therefore, a Section 81 form had not been issued by the council for them to commence.
"One of the building control officers went straight down there, but that was 45 minutes after, and the digger had done significant damage to the training gallery."
Mr Wynn said the training gallery was one of the most historically important features of the building, and damage to it was "really very sad".
Planning permission to demolish the building was granted two years ago.
However, Clive Nicholas, the council's planning policy manager, said a safety certificate was needed to show nobody was at risk.
The mines rescue station was opened to help find survivors of mining accidents.
Those who trained there helped in the mission to rescue miners from the 1934 Gresford disaster, when an explosion claimed the lives of 266 people.
The centre closed in the 1980s and was handed to the fire service, but it recently passed into the ownership of businessman and former Wrexham FC chairman Neville Dickens.
Mr Dickens has been asked to comment but it is understood he is abroad.
Related Internet Links
The BBC is not responsible for the content of external sites.