Wrexham boy, 13, celebrates an A at maths A-level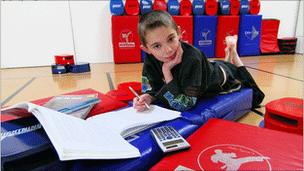 A 13-year-old Wrexham boy is celebrating after achieving an A in his maths A-level.
Cameron Thompson picked up his result at the Maelor School in Penley on Thursday.
He already has an A at AS-level maths, two A* GCSEs and is studying for an Open University degree.
Other students celebrating outstanding achievements include Carwyn James from Pembrokeshire, who did not miss a day's school in 13 years, and got two As.
Following in the footsteps of his mother and his grandmother with his 100% attendance record, Carwyn also achieved a B and a C.
In Wrexham, Cameron, who was celebrating his result with a new remote-controlled helicopter, said: "I'm very happy that I managed to pull off As in all six modules."
Hia father, Rod Thompson, said: "He was a little disappointed not to get the A*, but that's very difficult to do."
Mr Thompson said he and the family were "absolutely delighted" with Cameron's results, and they were planning a day out to reward the youngster.
He said: "We're taking him to an old-fashioned sweet shop in Mold, and then to an archery centre.
"He loves archery and karate, and it's very important to us that he keeps his outside interests and remains balanced.
"Next month he's due to take his probationary black belt in karate."
Cameron hopes to have his first set of letters after his name later this year.
His father said: "On his way to the degree he can pick up a certificate in maths.
"He's well on his way to that and should get the certificate in October. That would give him the letters Cert Math after his name."
Elsewhere, at Crickhowell High School, Powys, Hannah Williams and Joshua Brough got four A*s each. Both will be going to Cambridge University.
Twins Christopher and Darrel Reynolds, also at Crickhowell, got exactly the same results as each other - As in maths and PE and Bs in physics.