Towyn harness racing track faces 'uncertain future'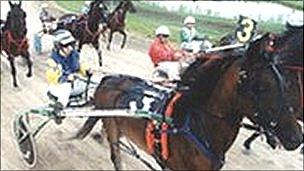 One of north Wales's top sporting attractions is facing an uncertain future after a drop in income and attendances, it is claimed.
Tir Prince in Towyn, Denbighshire, is regarded as one of the UK's best harness racing venues.
Director David Senior claimed a drop in income from S4C televised meetings.
S4C said its commitment to harness racing was as strong as ever and its pattern of covering different venues dates from 2003.
The seaside track's owners have announced they will not host any race meetings next year unless someone else applies to run them.
At its peak, up to 16 race meetings were broadcast each year from Tir Prince on S4C's Rasus programme.
But Mr Senior said the complex was no longer financially viable because of a decline in attendances, fewer trainers sending horses to race and a big drop in income from S4C.
He claimed budget cuts at the Welsh channel meant the broadcaster was only featuring four of the six meetings being held at the track this season.
"We've been hosting some of the top races in Britain for nearly 20 years," added Mr Senior.
"But over the past 10 years there's been a gradual decline in interest. We're not closing the track, we're just not applying for dates to hold meetings next year. We still have one of the best tracks in Britain, but it costs a lot of money to maintain it all year round."
Harness racing began at Tir Prince in the early 1990s after the late Billy Williams, a local businessman - and a harness racing driver - built the track on a derelict land between Rhyl and Abergele.
Attendances this season have averaged between 1,000 to 1,500.
The final meeting of the season - the Tir Prince's annual Crock of Gold event - takes place on 6 September.
Apart from harness racing, the Tir Prince group runs a funfair, go kart track, amusement park and retail markets at Tir Prince.
A spokesman for S4C said Rasus was filmed at different harness racing meetings across Wales.
"This year it includes four live meetings from Tir Prince and we look forward to broadcast the Champions Night in the last programme of the season on 6 September," said the channel.
The spokesman said wanted to emphasise the pattern of sharing broadcasts between different places had been in place since 2003 and one, two or three programmes have been coming each season from Tir Prince during this period.
Related Internet Links
The BBC is not responsible for the content of external sites.