Cellblock concerto among Ruthin art weekend events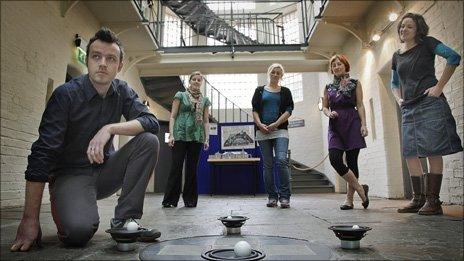 Jailhouse rock of a different kind will be reverberating at an historic building in Denbighshire.
Artist and musician Simon Proffitt will be performing a cell-block sonic concerto at Ruthin Gaol next weekend.
Ultra low frequency sounds will be passed through speakers, which will each have little Lego figureheads bobbing to the music.
"The piece is all about jails and captivity," said locally-based Proffitt.
The former research scientist will be performing as part of a three-day Bank Holiday contemporary art festival in the town, with 12 different artists at three venues.
Other performance and installation art between 28-30 August will be held at the Nantclwyd y Dre town house and Ruthin Craft Centre.
The 18th-century gaol, now a tourist attraction, will be the centrepiece of one of Proffitt's works.
The artist added: "I have six loudspeakers that I will be placing on the floor of the cell and will be passing really low frequency sounds through them.
"That causes them to reverberate and I will be putting the plastic heads of little Lego figures in each speaker so they will be bobbing about to the frequency of the music.
"People will be able to go into the cells and experience the different special effects this causes."
Proffitt, 35, said: "I used to play in a band but I wanted to do something less repetitive and predictable and this is the epitome of that."
'Incredible creaking and groaning sounds'
"I actually started my working life as a research scientist but I was much more interested in things I shouldn't have been interested in and in playing with some of the equipment I had.
"So I quit and went into art and design and have been doing that for the past eight years."
He will also be bringing some fun for weekend visitors to the 15th Century house Nantclwyd y Dre, with a sound installation there.
"It will be based on creaking floorboards," he said. "Every time someone takes a step in there there's this incredible creaking and groaning sounds which must have been being made there for centuries."
A third piece at Ruthin Craft Centre involves film of a London underground train.
The weekend also features sculptors, film-makers and installation artists.
The weekend has been supported by rural regeneration agency Cadwyn Clwyd, Denbighshire Council and the Helfa Gelf Art Trail.
Cadwyn Clwyd project officer Ceri Hughes said: "We have a number of different artists in the different venues and so it should be an exciting and innovative weekend."
It is intended as a curtain raiser for the Helfa Gelf Art Trail, which will run over three weekends from 10 September in Gwynedd, Conwy, Denbighshire and Flintshire.
Related Internet Links
The BBC is not responsible for the content of external sites.