Legal action possible over Wrexham Mines Rescue Station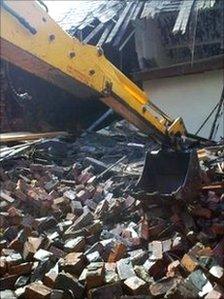 Legal action is being considered by Wrexham council over the "unauthorised demolition" of the town's former Mines Rescue Station.
Key parts of the Grade-II listed building were destroyed on Friday, two days after it was awarded protected status by historic monuments body Cadw.
Wrexham council said the maximum fine in such cases was £20,000 and/or six months imprisonment.
The owner, businessman Neville Dickens, has been unavailable for comment.
It is understood Mr Dickens is on holiday and a spokesperson at his office said they did not know when he would be available.
He was granted planning permission three years ago to knock down the building and construct flats.
However, some local people have been campaigning to save the 1913 building because of its historical significance.
It was listed by Cadw on 18 August after heavy machinery was used to demolish some of the most historically-important sections.
Two days later the machines were back, and contractors continued demolition work.
Anna Irwin, conservation officer with Wrexham council, said the demolition had "significantly damaged the special interest of this building", which was used for decades to train miners how to rescue their colleagues in disasters.
She added: "Unfortunately the training gallery located to the rear of the building has sustained the greatest degree of damage.
"Significant sections of its wall and roof have been destroyed.
"The demolition work was undertaken without either a safety certificate from the council or listed building consent.
"Council officials supervised works to make the structure safe on Friday afternoon which included the removal of sections of the roof and loose brickwork and the provision of temporary support."
Ms Irwin said it was "highly unfortunate that a unique building of both local and national interest has been needlessly damaged in this manner".
She added: "It is a criminal offence to undertake unauthorised works to listed buildings and as such the council are treating the matter very seriously and will now be considering prosecution proceedings.
"The maximum fine in such cases is £20,000 and/or 6 months imprisonment."
Related Internet Links
The BBC is not responsible for the content of external sites.