Funding deal talks over Denbighshire rail extension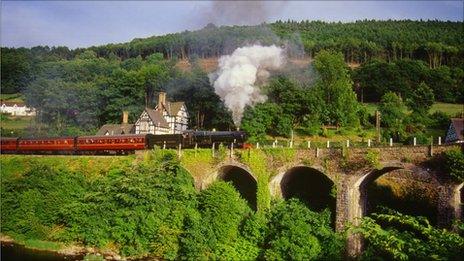 Rail enthusiasts say a plan to extend a Denbighshire railway could be in jeopardy unless a funding deal can be struck with the assembly government.
Llangollen Railway wants to extend its line from Carrog to Corwen and has been offered £500,000 if it can match that amount and start work by March 2012.
But it says it does not have the money and wants cash that has already been spent to count towards match funding.
The assembly government said it was committed to the project.
The group said it was originally offered a £1.2m grant on the condition work started before 31 March 2010.
However, it could not begin work because the necessary works order had not been granted, and the deadline was extended to 31 August.
Now, the group says it has been told the offer of £1.2m has been revised, and a £500,000 grant is instead available, provided it can match the money, commence work by March 2012 and have enough money to complete the rest of the project at an overall estimated cost of £4m.
The group's vice-president, Bill Shakespeare, said representatives had approached the assembly government to see if a deal could be struck.
He said Llangollen Railway had already spent £100,000 on legal fees, plus about £200,000 on materials and consultants.
In addition, he hopes free labour by volunteers to lay the track would count towards match funding.
He added: "We have gone back to them to see if they can release the £500,000 and count what we have done out of our own pockets, then at least we would be able to lay the track to the outskirts of Corwen.
"We're still committed to taking the track to Corwen, but if there's no money, then it will be piecemeal.
"We would have to complete works as and when we can, and asking when it would be completed would be a bit like asking how long a piece of string is."
He said the revised grant offer, if released, would not be enough the build a station at Corwen, but the main aim was to take the line there.
A Welsh Assembly Government spokesman said: "The assembly government is facing increasingly tough decisions in terms of future funding for projects and therefore setting aside £500k for the 2011/12 financial year shows our continuing commitment to the project.
"We understand that to complete all that the Railway Trust would like to do in terms of the project will cost between £4m and £4.5m.
"This is currently unrealistic and we are therefore committed to finding a way to deliver the key elements of the project (i.e. the delivery of a functioning tourist railway service into Corwen) in a cost effective manner.
"We are hopeful that this can be achieved."
Related Internet Links
The BBC is not responsible for the content of external sites.