'First' sudden oak death cases on private land in Wales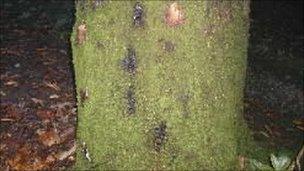 A deadly tree and plant disease has been found for the first time in privately-owned woodland in Wales, Forestry Commission Wales (FCW) says.
Cases of phytophthora ramorum - or "sudden death oak" - were found in Denbighshire and a notice has been served to fell infected Japanese larch.
The disease is a fungus-like pathogen and was first found on Japanese larch trees in Wales in June in south Wales.
Landowners who suspect the disease are asked to call FCW on 0300 068 0300.
FCW said only a small number of trees had been infected and the landowner would use the timber on site.
Staff from the Food and Environment Research Agency (Fera) have visited the site with FCW.
The outbreak in south Wales in June was the first time the disease has been encountered in the UK since it was first found on larch in south west England in 2009.
Richard Siddons, of FCW, which manages the public woodlands on behalf of the Welsh Assembly Government, said: "Forestry Commission Wales is determined to minimise the impacts of this serious tree disease on woodlands, and the support of woodland owners in looking out for early signs of P. ramorum infection will play a key part in achieving that."
In July, the Forestry Commission announced a £600,000 support package for woodland owners in south west England and Wales to help tackle the outbreak.
FCW said it was now developing a "complementary programme" of support for private woodland owners who have the disease confirmed on their land.
Related Internet Links
The BBC is not responsible for the content of external sites.