Village hall row over pro-Israel group in Flintshire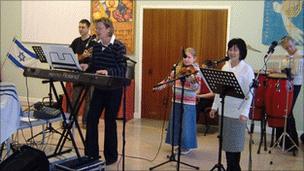 A Christian group in Flintshire claims it is being forced out of the village hall it has used for more than 11 years because it supports Israel.
The 40-strong Fathers House congregation uses Gwernymynydd Village Centre near Mold.
They were told in a letter of "great concern" over "controversial views".
The centre's management said it had never shown prejudice and was trying to encourage more social events on Saturdays.
The group have been given until November to vacate but have been offered Sundays instead.
In May, Fathers House received a letter from the Gwernymynydd Village Centre Management Committee which listed a number of concerns.
It ended: "There has also been great concern expressed about the content of your web site, and the very controversial views it contains.
"The Village Centre Committee does not wish to be associated with your views."
Pastor Mike Fryer said there was "no doubt whatsoever that we are being discriminated against because of our views".
He added: "There are obviously individuals on the committee who don't like our views.
"We have been there for more than 11 years. We pay more money in than any other group using the hall, and we probably do more for the community than any other group.
"We normally meet on a Saturday from 2.30pm until 7pm, but we have said we're happy to meet earlier, and have even cancelled some meetings when necessary.
"They wanted us to use the hall on a Sunday, knowing very well that our Sabbath is a Saturday.
"The committee claims it' is because of a rise in requests to use the hall on a Saturday. But I'm a trustee on the committee and I've asked to see the diary but I've been told I'm not allowed."
Fathers House has sought legal advice, but says it is reluctant to pursue action because it does not want to affect the community's ability to use the hall.
Keith Taylor, chairman of the Village Centre Management Committee, said a local development plan had been devised which included trying to encourage more social events.
He said there had been comments from people in the village "about their extreme views but that has nothing to do with our decision to terminate our agreement with them".
He added: "We have no racial prejudice to any groups. We have had all sorts of people and we don't differentiate.
"They [Fathers House] operate on a Saturday afternoon and early evening which in effect blocks two sessions.
"We have a lot of people who want parties on a Saturday.
"They have been given the option of a Sunday."
Mr Taylor said he accepted the group's Sabbath was a Saturday, and it was "unfortunate this should be happening".
He added that Pastor Fryer was "welcome" to view the current booking diaries.
Related Internet Links
The BBC is not responsible for the content of external sites.