Swansea police appeal for help in river search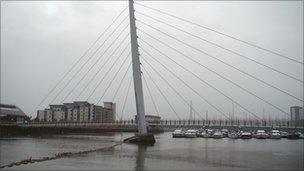 An extensive search for an 18-year-old man, seen jumping from a bridge, is continuing.
Meanwhile, South Wales Police want to speak to residents of flats or boats in the River Tawe or Swansea Marina, who may have seen something.
The search follows reports of a man entering the water at around 0100 BST on Thursday.
Officers believe that the man went into the river from the Sail Bridge near Sainsbury's.
The search, which is being carried out by specialist officers and other emergency services, carried on throughout the night and intensified at first light.
Det Insp Peter Doyle from Swansea Central CID said: "This young man is believed to have gone into the river at about 1am early this morning, near the Sail Bridge.
"I am aware that there were a number of people in the vicinity, together with local residents.
"I would appeal to anyone who saw this man going into the water, or whilst he was in the water, to come forward."
Anyone with information should contact police on 101 or Crimestoppers on 0800 555 111.
Related Internet Links
The BBC is not responsible for the content of external sites.