New mental health unit for women opens in Flintshire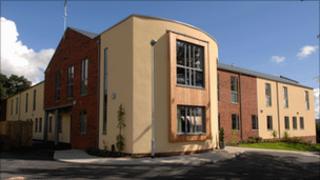 A 24-bed mental health hospital for women has been officially opened in Flintshire.
Delfryn Lodge in Mold aims to provide a safe place for women to undergo rehabilitation before being integrated back into society.
The hospital, which receives patients next week, boasts a "children-friendly" visiting room, beauty salon, internet café, multi-faith room and gym.
It was opened by Delyn MP David Hanson.
The centre has been built on the Cambian Group's Mold campus, where the company runs a 28-bed male psychiatric unit and treats a variety of conditions including schizophrenia, schizo-affective disorder, bipolar affective disorder or depression.
Mike McQuaid, Cambian's chief operations officer, said: "Delfryn Lodge will provide a safe and comfortable therapeutic environment for 24 women to rebuild their living and vocational skills ready to regain their place in society."
It will serve north Wales and north-west England and according to Cambian will provide "significant local employment opportunities".
Paul Hughes, the hospital manager, said it was common practice for mental health patients to be in same sex hospitals.
He said women tended to respond better to treatment in an environment with other women, and about 85% of the staff are also female.
Mr Hughes said the therapy focused on a method the company calls Active Care, a "four-pronged approach encompassing nurses, doctors, psychologists and occupational therapists".
Patients are taught how to improve their "daily living skills like shopping, cooking and house-holding skills".
Mr Hughes added: "The aim to everything is that after someone has been with us they can live independently in the community and not end up back in the hospital."
According to mental health charity Mind, figures published by the Welsh assembly show there were 10,854 admissions to mental health facilities in Wales in 2007/2008.
The figures show a decrease of 31% since 2002/03, when the number was 15,670.