Replacements for Wrexham's street lights approved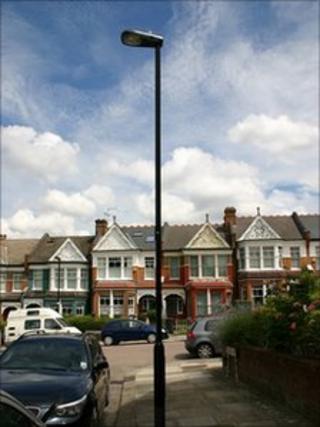 Wrexham council has voted to replace all its residential street lighting with energy-efficient bulbs as part of a plan to reduce its carbon footprint.
The authority's executive board also voted to dim some street lighting at night
Under phase one of the council's plans, all 4,300 residential lights owned by the authority will be replaced.
The Welsh Assembly Government has pledged £280,000 towards the scheme, which will cost £336,000.
Wrexham council will contribute £36,000, with the remaining £20,000 being paid by Offa Community Council.
Work will begin in October and must be completed by March 2011 to qualify for the assembly government grant.
A report to the executive board said "any budget savings made by reducing energy use will be required for the repayment" of the Welsh Assembly Government grant.
The report said the council wanted to "replace existing gear tray with modern electronic type fitted with more sensitive switching arrangements" at a cost of £280,000.
It is estimated that alone could save more than £42,000 a year and reduce the council's carbon footprint by 270,000kg annually.
The report claims more could be saved by installing "part night dimming" lanterns in some areas such as Ruthin Road, Bersham Road and Bradley Road.
There are no plans to switch off any lights.