Dead foxes dumped near Wrexham supermarket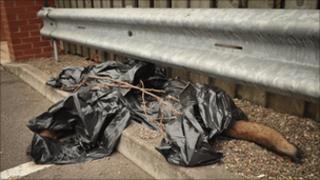 Examinations are taking place to try to establish the cause of deaths of three foxes found dumped near a supermarket car park in Wrexham.
The bodies of two adult and one younger fox were found near the Asda store on Monday.
A Wrexham council spokesman said the bodies were removed and a local vet was examining them.
One eye witness told the Leader newspaper: "Somebody has wiped out a whole family".
She added: "It seemed to be the parents and one of their young.
"Whoever did this is sick and needs prosecuting."
An RSPCA spokeswoman said: "We are always concerned to hear of incidents of this kind and await the outcome of the investigation with interest.
"We would urge anyone who witnessed this incident to contact the RSPCA on 0300 1234 999."
An Asda spokeswoman said: "We were made aware of the situation yesterday morning and immediately asked Wrexham Council to remove the animals.
"We've no idea how they got there, but we'd welcome anyone that does have any information to let us know as soon as they can."