Head teacher defends holiday reward for Rhyl High pupil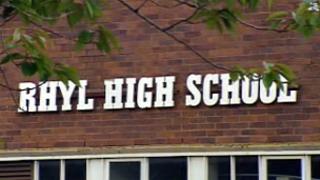 Teachers and governors have hit back at criticism of a pupils' reward scheme which offers a holiday as a prize for good attendance.
Rhyl High School, Denbighshire, was taken out of "special measures" in August, 18 months after concerns were raised regarding education standards.
The school has pointed out attendance has gone up from 80 to 94%.
Clwyd West AM Darren Millar said the Isle of Wight holiday for a star with 100% attendance was "bribery".
"It's clear in law parents are required to send children to school," he told the Daily Post.
"Bribery is not the best way to get children to go to school. Getting better grades and better outcomes should be the way forward."
Headteacher Claire Armitsead said: "Rhyl High School has changed - it's now a school with a passion for achievement with staff and students who work together.
"We reward our students, we acknowledge what they do above and beyond."
100 percent
She pointed out the holiday had not come from school funds, having being donated by a parent.
"We talked as a team and decided it would be an appropriate award for attendance," said Mrs Armitsead.
She added: "To attend 100% of the time is an achievement, it means you make the extra effort and it should and will be rewarded at Rhyl High School.
"This is just one part of our rewards system and our attendance policy.
"It is a reward for sustained effort and a dedication for pupil's education and their future."
'Move forward'
Last January, schools inspectorate Estyn said that Rhyl High School had "important shortcomings".
The school then introduced an action plan to improve standards and teaching and the special measures were lifted this summer.
Coun Ian Gunning, a governor at Rhyl High and vice chair of Lifelong Learning for Denbighshire council, said: "We are grateful for other members of the public in their attempts to help the school move forward.
"The holiday offer was only one factor from a whole range of activities that has led us to our current position."