Repairs to A548 Foryd road bridge to cause disruption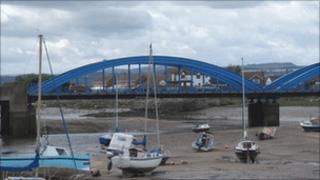 Drivers and pedestrians have been warned to expect disruption as maintenance work begins on a Denbighshire bridge begins.
Work on the A548 Foryd Road Bridge at Rhyl will take place above and below road level.
Denbighshire council said work would "continue day and night", with one lane in operation.
Any closures will be limited to between midnight and 0600 BST.
Below the desk, the bridge will be lifted by hydraulic jacks to allow support bearings to be replaced.
Above deck, the road surface will be removed and a waterproof membrane applied, with new asphalt
It is thought the night-time closures will be required for three weeks of the eight-week scheme.
The council said footpath access will be maintained for the majority of the time on both sides of the carriageway, except during "critical operations" when one will close.
Councillor Sharon Frobisher said: "We know this will cause disruption to motorists and possibly pedestrians but this work is essential and we have done everything possible to minimise disruptions."